There's no doubt that 'Consent' is a hot topic in many aspects of life today and has had a surge of interest in response to the #MeToo Movement. Brook have seen more demand from both professionals and young people to help increase awareness and challenge the prevailing cultural norms that surround the subjects of rape and sexual assault. 
Teaching young people about consent equips them to have safe, ethical and enjoyable sexual experiences.
The brief? – To arm professionals working with young people with the knowledge, confidence and skills to deliver quality education around consent, that young people need and deserve.
With a limited budget, this needed to be an affordable solution that was adaptable to multiple environments, with the feasibility to customise for other audiences in the future. 
Showcasing and celebrating the Brook brand was also key. As a freely accessible resource, this needed to co-function as an effective promotional tool for the charity.

Our
approach
Consent was developed using the Adapt authoring tool and published in SCORM 1.2 for integration on the Brook Learn Moodle platform. Delivering a mobile responsive course was especially important, to encourage users to access the materials on any device, in any place to suit their learning.
Breaking materials down into bite-sized pieces allows users to navigate the learning in memorable chunks and complete their training in phases. The layered design also means that returning to refresh knowledge at any time is easy.
This course is divided into five key 10–15-minute modules:
The Meaning of Consent

Myths and the Law

Communicating Consent

Consent Scenarios

Offering Support and Help
The writing style, language, interactivity and visual delivery of content, focussed on shifting a typically sensitive topic to a more fun, approachable and memorable delivery.
We strived to normalise the conversation around consent and dilute any potential anxiety in running classroom sessions.
To put learning into context and allow users to actively apply what they had learnt so far, we created a series of 6 1-2 minute consent scenario animations, all narrated by voiceover artists.
These were based on real-life stories from young people around their experiences of sexual consent.
Using animation rather than video footage, we retained the anonymity of storytellers, and were able to appropriately present, what was in some cases, fairly explicit materials. After each animation, we asked the user if they felt consent was present or not. Each animation was designed for use within the online training as well as for discussion with young people in the classroom.
Content has since been reworked for an undergraduate student audience. This version is typically used at the point of enrolment as part of a healthy induction to campus living, and makes up part of the response to this growing crisis.
Together with Brook, we offer customisation of branding and signposting to local services for individual universities.
We have also been thrilled to receive recognition for this exciting project from leading industry awards. 
Learning Excellence Awards winners
Innovation Award: Design, Content Creation & Video
GOLD Awards: Outstanding Course
Learning Technologies Awards shortlisted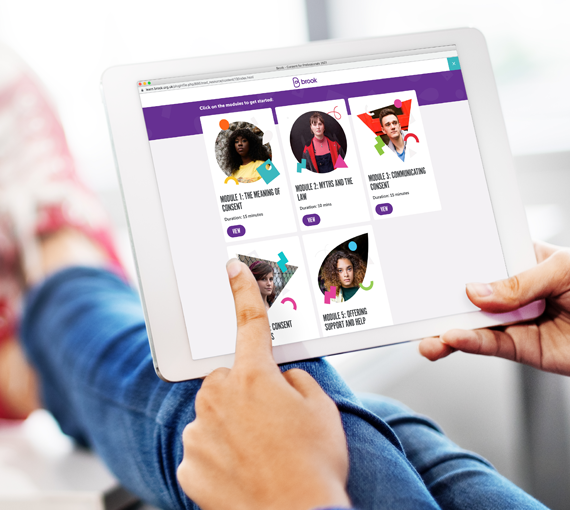 We're here to shake up the world of digital learning and collaborate with fellow change makers.
Get in touch